This is what I want to be doing on my screened porch. It has always been a dream of mine to have a screened porch. There is something I love about it. You can be outside but escape from the mosquitoes (which typically eat me alive). D is going to most likely be embarking on a variety of home projects. One of the projects I am going to set him on is building on a screened porch.
[Not a huge deck...but totally legit for building on to...]
D is thinking we'll add it on to this side so that we can keep the stairs. We'll see. Hopefully that'll be a project for next spring or summer.
Here are some porch pics that have me swooning...
[If only we lived on the beach...pretty sure this is a Pottery Barn ad but image via weheartit]
[Oh man...I die for this porch. The Adirondack chairs, the trees, and the puppy. Image via design*sponge]
[So gorgeous with all the greenery. We definitely need to stain and weatherproof our deck. Image via weheartit]
[I know
our house isn't this big, but I could totally picture something like this. I like the addition of the latice on the bottom. Image via designers-choice]
[Again, we wouldn't have anything near this big, but how adorable! I picture a comfy little couch or chair in ours with a table. And lots of plants! Image via weheartit]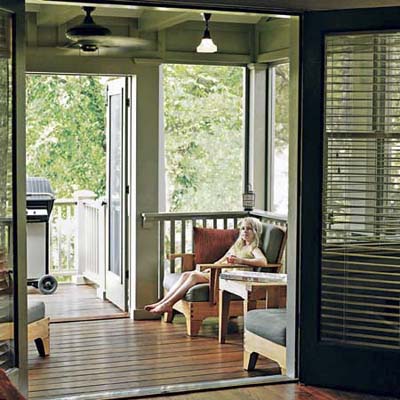 [I know this is a poor picture, but this is my vision. Currently, we have sliding glass doors leading out to the deck. I could definitely see us putting in french doors that lead to a screened porch. Then build on a deck from that. Absolutely perfect. One day... Image via thisoldhouse]