Why? Because I'm doing my very first link up! With all of my extra time this summer, I thought it might be fun to link up here...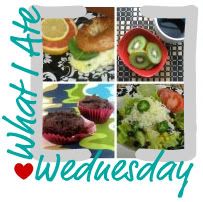 That's right! I'm linking up with
Jenn over at Peas and Crayons
. So here goes nothing!
BREAKFAST:
[Ignore that giant chip in the bowl...The Greek Gods Strawberry & Honey Greek yogurt, strawberries, kiwis, and Kashi Mountain Medley granola]
[Coffee in my favorite Terrapin glass mixed with a little Sugar in the Raw and Trader Joe's Soy Milk creamer]
This is one of my favorite meals! It's super easy and healthy. I love Kashi's Mountain Medley granola because it has dried fruit pieces in it which adds a little extra sweetness.
[Egg sandwich with two fried eggs, homegrown tomato slices, an slice of cheese, and a little light mayo on (burnt) whole wheat bread]
I love breakfast foods for any meal! This is an easy one for me to do after the gym. If I have it on a day when I don't work out, I may do only egg white or just one yolk. If we have had a chance to go to Whole Foods, I'll add a bit of ham from there.
[Poor iPhone pics...sorry! Veggie Delight on wheat from Subway]
[First time trying these chips...not my fav. I usually stick with Baked or regular sour cream and onion Lays]
AND TO ROUND IT ALL OUT:
[I try to drink two of these bad boys per day]
[A little more calories than I would normally have, but those two cups of coffee almost had me passing out during AND after my run and needed something sweet. Delicious nonetheless!]
And there you have it! Thanks Jenn for letting me link up!