Last year I tried my hand at
gardening
. I was pretty lazy, and it was a hot summer. I didn't water it like I should have. I let myself get overwhelmed when the cantaloupe and cucumbers started taking over everything. It was a definite domestic fail for me. I kept telling D (
and plenty of others
) that I dropped the ball with the garden and I'd understand if he didn't want to give the next "thing" a try. What's the next thing you ask?
CHICKENS!
That's right. I've been wanting chickens ever since we moved into our house. We eat plenty of eggs and would love to have homegrown eggs. D is on board with the plan. We have friends that have chickens and experience building coops.
There's a nearby farm having a sale on chicks in April. This means the race is on to build a coop. I'm not sure if we can make it happen in time since D is traveling a bit this month and next. I've already started searching for inspiration for kick ass coops though!
[
There's a tractor coop that is moveable depending on the weather, sun, etc.
]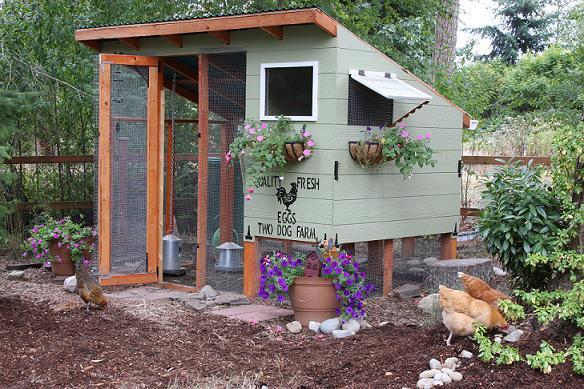 I like this a lot. It seems pretty in depth for us though. I doubt we will make ours as "pretty." It even has a tin roof! We have a privacy fence as well, so the roof couldn't face in that direction.
I think this one is perfect. You don't have to get complicated by building a roof. There's a large shaded/covered cooped area as well as the elevated coop for eggs. I don't know that I necessarily need the window, but the hinged door would be a necessity for egg collecting.
I'm really excited about embarking on our chicken adventure! It should be easier to raise chickens than a garden, right?