Popping in for a Saturday post to express my gratitude to
Robin & Ashley
for choosing to honor me!
I'm so thrilled and surprised! I adore this little award because it shines on us "smaller" blogs that have still made a footprint in the blogosphere. The low-down on the Liebster goes like this:
Choose five up and coming blogs

to give the Liebster award to. Blogs must have less than 200 followers.

Show your thanks

to the blogger who gave you the award by linking back to them.

Post

the award on your blog.

Don't leave your recipients in the dark!

List the bloggers you gave the award to with links to their sites. Leave a comment on their blogs to let them know.

Share 5

random facts about yourself!
Thanks again to
333 Miles, with love...
for thinking of me! I'm still so tiny over here at Skinny Jeans that I don't even have a button (
don't worry...I'm working on it!
)!
Time for me to share my blog love!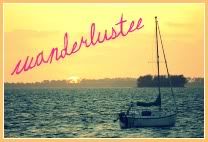 [Kimberly at Wanderlustee]
[Christin at With a C.H.]
[Kristin at Mrs. Miller's Miles]
[Claire at Beaktweets]
Now you need to know 5 completely uninteresting randoms:
I'm obsessed with Law & Order. I have it on in the background as I type.

Even though I have two cats + two dogs, I'm unofficially allergic. My eyes get all itchy and my nose stuffy when I get too much pet hair near my face.

I'm also unofficially diagnosed with asthma. It's a real bitch for working out. I have to use an inhaler before every physical activity. This gets really annoying when keeping up with an inhaler and annoying financially (

those things are expensive!

). Also, I think the asthma is allergy-related.
I might drink a lot of good (

ie. quality and craft

) beers, but I'm not opposed to a light, "crappy" beer when I am sitting at home alone.

I've been to Asia...Cambodia specifically. I was a junior in high school when my family travelled there to adopt one of my sisters. It was truly a life changing experience. It sparked my love for children and social work.
And there ya go! Now go give some shout outs to those "baby" blogs. I swear I'm always 10x more likely to follow a blog that has a little blog following because I want to support them!