Remember how I kept talking about this anniversary project I was working on for D? Well I unveiled it for him the weekend we went on our anniversary trip. Traveling is my favorite thing ever to do. And I especially love traveling with D. We have the best memories from places we've been together. His wedding vows even mentioned the Mediterranean Sea (which...I still have both of our hand-written wedding vows and plan to eventually do something with those). Also, have I ever told you how his vows
blew mine out of the water
...he's the best. But I digress.
Europe
will hold the specialist of places in my heart.
Simple camping trips
make us happy. In the scheme of things, we haven't been
that many
places. I decided to do something using vintage maps.
My initial idea came from my friend
Brittney's blog
where she wrote about gifted art and a cool map she made for her husband. Brittney linked to
this post
at Young House Love that mentioned this project: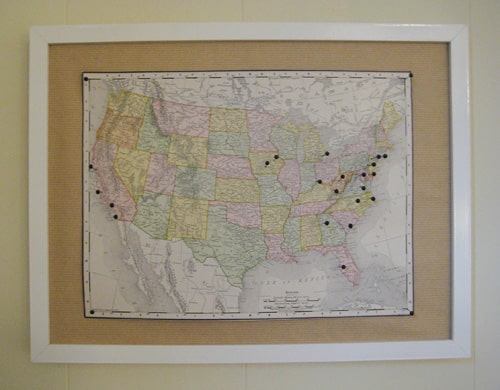 Above, Sherry actually used corkboard as a back and pinned the map in place. I went with this idea and ran. I loved the idea of a vintage map. I love the idea of using that as art. I love the ability to track where we go and the places we see. It seemed perfect. I wanted more though. Our international travel has been where some of our best memories have happened. What do I frame? Which type of map? And so the challenge began...I would find a vintage map of each continent.
I still wanted a super old US map. After scouring ebay and etsy for weeks (and waiting until payday), I scored a 9x14 (I think) 1914 US map, which I had to fight a bit for on ebay. On etsy, I found a North America vintage map, South America, Africa, Asia, Europe, Australia, and Africa. Count 'em...8 maps. I couldn't afford to go out and buy new frames and cork (which by the way is EXPENSIVE). And so the thrift search began...
[Scored this LARGE guy at my fav thrift store. I figured it would fit the US map perfectly with the cork and a possible mat.]
[Oh and I scored this beauty inside the monster frame :) That frame was around $5]
[Don't you wonder how someone ended up with this in the first place? Good size for my smaller maps. Also scored from my fav thrift store]
[Another "what were they thinking?"]
Unlike the Young House Love map, I was going for a bit more "rustic," vintage looking frames. I could always reframe in the future if we wanted to go more modern. Unfortunately all I could find when checking all my local thrift stores was
those three decent frames. Others just didn't mesh well (think brushed gold) or just weren't big enough.
Since I am getting all text happy on you, I'll be back tomorrow to give you a continuation of the project.