Back in early February, I showed you
this hat
that I was craving...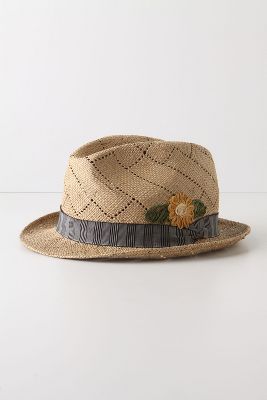 However, $98 was way to steep for my budget.
Claire
(check out her blog!) made the perfect suggestion though! She mentioned getting a cheap fedora and pinning a cute flower to it. I haven't been on a hardcore search for a Fedora, and on my tiny budget, I typically just check over the accessories section at Target. Last weekend I purchased this cutie for only $12.99...
While it is definitely a different material, and I didn't get it with pinning to it in mind, I like it! It's a good switch from my "touristy" fedora that I got from the Eugenia Kim Target collection last year.
Although that fedora is the same style as the $98 Anthro one above. I could always cut off the parrot (which I'm eh about anyway) and pin something there. I'm excited about my cheap Target score from this year though. It feels more like a wear-anyday hat.
I've also been craving some brown oxfords since
last August
! I can only hope that they'll still be in next season because a flat, brown shoe is perfect for standing all day in my classroom. I saw this picture of Sydney, from
The Daybook
, and had to check out her shoes!
I immediately headed over to
Threadsence
to check out the shoes. To my surprise, the shoes were
$33
!!!! What?! Next to check the sizes...certainly my size 6 could not be in stock. But
YES
! Size 6 was in stock!!! I immediately put in my order. And no joke, 3 days later, my shoes arrived!
[Sorry to break the news, but they are all sold out now]
I can't wait to break them in and wear them next week to school! And here's to hoping the trend sticks around for at least another year...